A Very Personal Message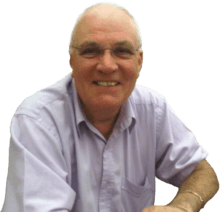 As many of you will know, I've been online for a very long time now. As a result, you could be forgiven for thinking that I must have sold millions of dollars worth of products and made myself millions of dollars in the process.
The reality is though that I haven't. I'm not a multi-millionaire, I'm not even a millionaire, and there is a simple reason why I'm not.
Now, I'm not saying that I haven't made any money during my time online – I have, but I haven't made anywhere near the amount I should have made.
And there's a simple reason for that.
That simple reason, and the reason why so many people coming online don't make a single dime online, is 'Lack of Focus'.
That's it. The ability to focus on just one thing and one thing only is what separates the winners from the losers.
We all know from our geometry lessons at school that the shortest distance between two points is a straight line.
The straight line between your goal of online success and achieving that success is Focus. Identifying the key tasks that need to be undertaken to accomplish your objective and working on just those tasks is what focus is all about.
In my case, I have always had other offline businesses to run and they have taken my focus away from what I really wanted to do, which was to build a business online.
It can be very difficult to offload a regular offline business, especially if, as in my case, it's something that you are also passionate about and you want to be sure continues to thrive under new leadership.
These days there are so many shiny objects that promise a shorter distance to achieving your goal (which in most cases they don't), that maintaining your focus is harder than ever.
There's lots of talk about information overload and overwhelm these days and both contribute to a lack of focus.
Maintaining your focus with so many emails promising quicker riches is very difficult. Most people coming online need money coming in pretty fast so falling for the very persuasive sales copy is completely understandable.
It's important to realize that the majority of these methods will not make you the money they promise in the time frame that they suggest, if at all.
So what is the main task that anyone starting out online needs to focus on to build a successful business?
List Building.
The most important job for any online marketer is building a subscriber list and developing a relationship with that list.
Everything else you do will grow from that.
Let me tell you a story that illustrates that point perfectly.
Sarah Staar is a friend of mine here in the UK. We meet from time to time at Martin Avis's now famous London lunch.
At one of the lunches I remember Sarah explaining how she got started online. It goes something like this.
Very early on she started making good money using a system that I believe was called the Google Cash System.
It involved creating Google adwords paid ads that sent people to an affiliate offer. It worked remarkably well. You didn't need a squeeze page, you didn't need any sales copy, all you did was send people who clicked your ad directly to the affiliate sales page.
Like many people, me included, Sarah soon started to make serious money doing this until Google decided they didn't like it.
They changed the rules and overnight the income dried up for many of us.
At that point Sarah decided not to put her business at the mercy of an organization like Google ever again and at the same time discovered that there was going to be a lunch in London (the London lunch) where online marketers gathered and during an extended lunch they would talk about marketing online .
At that lunch she made it her mission to grill every one of the successful people there about what they put their success down to.
I remember her saying that there were people like Martin Avis there (who's function it is), Phil Wiley who was over from Australia on the day, plus several other marketers.
At the end of the day an analysis of her findings from all of the discussions she had showed that having a good responsive list was key to success online.
During the years since that day her main focus has been list building. She's done lots of other things like product creation and coaching, but the basis of all of it has been list building.
The last I heard she now has in excess of 100,000 on her lists and growing. Also the last information I got from here was that she generates over $25,000 a month from affiliate offers alone, not her own product sales, affiliate offers.
That's what's possible when you build a responsive list.
It was sometime last year that I heard Sarah explaining this and decided there and then that focusing on list building was what I was also going to do.
I was also going to make immediate plans to offload my offline business as soon as I could. It hasn't gone yet, but it's closer than it's ever been.
To help you build your list I've put together Optin Profits Formula which takes you step by step through the process.
This short course will help you work through the process and get you started on building your list. A list that will become the basis of your online success.
As always, any questions, leave me a comment on the blog or raise a support ticket
Until next time,
Kindest regards,
Trevor