[UPDATE] It's been the worst year of my life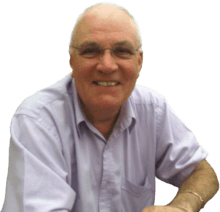 Hi ,
Trevor here. It's been a long time since I wrote to you so I thought I should explain what's been going on.
In April 2020 I caught the Covid virus. I'd been taking lots of care not to be in the crowds any more than necessary but I believe a visit to the supermarket to get some food turned out to be one trip too many.
The actual infection was not so bad that I ended up in hospital on a ventilator like so many people my age but it was bad enough.
Struggling to get my breath was very worrying and hard to cope with but fortunately after about 4 days of treating myself with medication to relieve the congestion on my lungs and gargling with a steroid mouthwash that I have for an on-going auto-immune condition, I began to improve.
However, that was just the start of a year like I've never experienced and don't want to go through again.
To make matters worse…
I've been experiencing what has come to be called long Covid. There are lots of different symptoms associated with long Covid and they vary from person to person.
In my case, I've continued to be short of breath at times. The weird thing is that it changes from day to day. Some days I can be very active and have no breathing symptoms and others I get out of breath just walking anywhere.
Energy levels are also variable. During the bulk of the last year I've had very low levels of energy and some days I've just been wiped out completely, spending most of the day resting or sleeping.
Brain fog is another symptom and I've had that too. I forget things that I never did before. Forcing myself to exercise my brain by learning new things is helping improve that thankfully but I've a way to go yet.
While I knew I should be working on my business, I just couldn't seem to be able to concentrate for long enough to do anything meaningful.
I've just not been able to sit at the computer for more than a few minutes to get anything done. I've not been able to concentrate on anything for any length of time. I've felt lethargic and lacking in interest or incentive.
How about you? I'd be interested to hear from you whether you have caught this infection and how you have coped with it. Drop me a reply and let me know.
The good news is that there is a way out of this nightmare. I'm getting back to normal more each day and in tomorrow's email I'll explain what I've been doing to help achieve that.
And that is why I am sending you this email…To update you why I have not been in touch… and I am getting back to my old self slowly…
Kindest regards,
Trevor
P.S. I am going to send you an email tomorrow…watch out for the the subject line: "How I'm Beating Long Covid – The Simple Formula That Turned Things Around". Be sure to look out for that.