I'm Back From The Wilderness …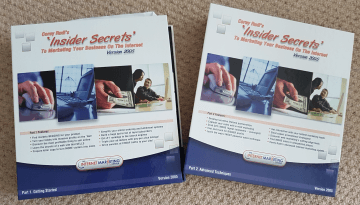 I moved house in July and it became a mammoth task which took me offline for the better part of 2 months.
Having moved I still have lots of boxes of 'stuff' to sort through which will take a while yet but I need to get back into harness.
I'm a great hoarder and part of the move involved boxing up a good chunk of 20 years worth of books, reports I've printed off, coaching programs I've taken etc.
If you are the hoarding type you'll know what I'm talking about. People have often said to me "if you haven't needed to look at something for 12 months you don't need it so throw it away".
Has anybody said that to you?
I agree with that sentiment in many instances but I've come across some real discoveries that I'm really happy I didn't throw away.
One of the gems that I came across was probably the ultimate coaching program that set many of us on the right track many years ago.
That gem was 'Insider Secrets' To Marketing Your Business On The Internet by Corey Rudl.
The version I have was published in 2005 and was an updated version of the original published in 2003. I bought the original version but gave that away to a friend of mine to help him get started online.
Looking through this major work on Internet Marketing again, so many years later, reinforced my belief that marketing online today is really no different, at a basic level, than it was when I first got started in 1996 and when Corey published this great work in 2003.
All of the extra things that we have today, like social media, video, webinar services etc. just make things easier in some ways but it is still possible to make a successful living online without them following Corey's early training.
I learned a lot from Corey and made consistent commissions from selling his products and services through the Internet Marketing Center.
Sadly, Corey lost his life shortly after the publication of this second edition, on June 2nd 2005, doing what he probably loved most, motor racing.
His passing was a sad loss to many of us who still miss him today.
So one of the key lessons I've learned from my move is "Keep It Simple".
It's so easy these days to become convinced that without this or that new trick or technique we cannot hope to succeed. The fact is that it is possible to succeed by sticking to the basics and putting in consistent effort.
One of the more recent innovations that has helped more than most things is blogging and in particular WordPress.
It is possible now to build a life changing income online by creating a blog around your favorite topic and building a following of like minded people.
Many people everyday are doing just that today. One of them that I have been following with interest for some time now is Melyssa Griffin. She has taken her blog from obscurity to generating in excess of a million dollars a year in just 3 or 4 years.
This principle of building a business around your hobby or passion was something that Corey taught very successfully and created many millionaires in the process.
Who knows what would have been possible if WordPress had been around then.
Contrary to what many will tell you blogging isn't dead. I think that it's still an easy way to build a tribe of like minded fans who will happily pay you for your knowledge and in the process help you build something that changes lives.
If you've not considered blogging in the past, for whatever reason, my new training, Blogging For Newbies, may be just what you need to get you started.
Expect to learn from some more of the material in my archives as I continue to sort through the last 20 years online.
Until next time,
Kindest regards,